RPi Ubuntu 21.04 – 64-bit Linux for Raspberry Pi
There is a new version of Ubuntu which is now at version 21.04. The version number consists of the year and month it was released so this is from April 2021.
For this version (and the previous version 6 months ago) the Ubuntu releases now include a version of the 64-bit desktop version for the Raspberry Pi. I haven't upgraded my PC yet because of a bug that's resulted in a delay to the upgrades. The bug is mainly for older hardware. It shouldn't be a problem with my laptop as it's fairly modern and new installs should work okay. The bug won't affect the Raspberry Pi version.
Installing Ubuntu 21.04
Installing Ubuntu on the Raspberry Pi is just as easy as Raspberry Pi OS. There is however one caveat in that you need a SD card with more than 9GB of space, so effectively you need at least a 16GB SD Card. This shouldn't be a problem as that should cost less than £10 these days, but it does mean if you have a 4GB or 8GB SD card (I have dozens of theses) then you can't use it for Ubuntu.
When you first boot with the new image then you need to spend a short time going through the setup process, but it just takes a few minutes to get up and running.
Installed applications
By default the desktop includes Firefox web browser and the usual LibreOffice. So there is everything you need to get started. It doesn't include any programming applications that are included on the Raspberry Pi, but these can be installed through apt or the software installer.
Raspberry Pi OS vs Ubuntu
In the video I explain about some of the pros and cons for both the Raspberry Pi OS and Ubuntu. A summary is shown below.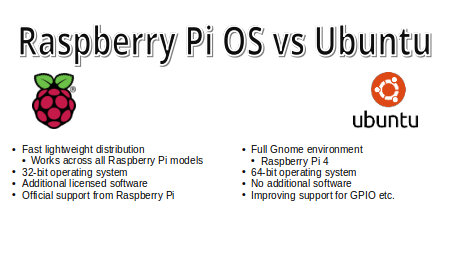 Which is best?
Choosing a distribution depends upon what you want to do with it and your personal preferences. If you are wanting to use the Raspberry Pi for programming and accessing the GPIO ports then Raspberry Pi OS. You will also need to use the Raspberry Pi OS if running on an older Raspberry Pi or the Pi Zero.
If you want to run a modern looking, 64-bit Linux distribution on a Raspberry Pi 4 then you may want to use Ubuntu.
Personally I'm going to use Raspberry Pi OS for most of my needs, but I do run Ubuntu on my laptop which I used in creating this and for editing the video.