Day out at Bekonscot Model Village
Bekonscot is in Beaconsfield, Buckinghamshire, England. It is the oldest model village in the world being first created in 1929. It has however changed a lot since then having had periods where it was modernized, but then reverting back to being primarily based around 1930s England.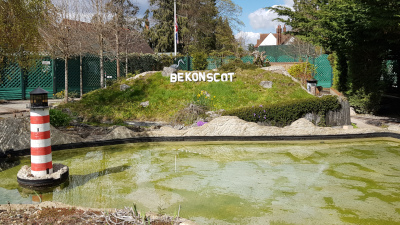 It features one of the largest Gauge 1 outdoor railways in the UK. The buildings are made to a larger scale of 1:12. It's clear that these are different scales, but it does work okay.
There is so much to see, some amazing buildings, nostalgia of an England in times gone by, and also some fun animations and visual effects. It's a place we now visit fairly often with new features each time. In the last few years they've added a New Town area and a funicular hillside railway. This year it looks like there has been quite a few touch-ups with some of the artificial grass being replaced and what appears to be a significant number of model figures added making it look even better.
Here's a short video which is a photo slideshow showing some of the features of the model village.
This review is from a visit on the first day that it was open during 2021 as we reached the next stage in lockdown restrictions being lifted during April 2021. During this time tickets need to be booked in advance.
The site is almost completely outdoor. Although social distancing is encouraged, it's pretty much impossible for young children to completely adhere to it. It didn't feel a problem though, you would just get someone passing occasionally and then usually managed to maintain a reasonable distance.
The model village is run as a charitable organisation. A great place to visit for a couple of hours during a day out to this lovely part of England.
For more details see Bekonscot Model Village website.