Weekend camping at Drayton Manor
After having a good weekend camping at Drayton Manor last year we visited again this year with my brother and his family.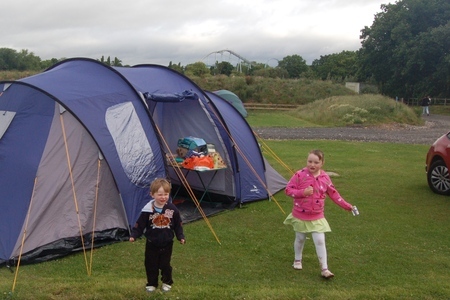 Arrival at the Drayton Manor Park campsite and pitching the tent in the rain
We arrived at Drayton Manor on Friday evening, booked in with security and then proceeded to pitch our tent in the rain. This was before my brother arrived with his family so it was just my wife and I trying to put the tent up. Fortunately someone else came over and helped us with some of the poles. I'm sure we could have managed eventually but an extra pair of hands was a great help and made it much easier to put up.
This is the second time whilst we've been camping that a stranger has come over to help with putting the tent up and it's great to see the community spirit still alive amongst fellow campers.
My brother arrived later in the evening and I helped him to pitch his tent. Fortunately the weather improved for the rest of the weekend.
One thing we did notice about the site was that the ground is very stony when you go below the surface. I expect this helps with drainage, but you need to make sure that you have some sturdy tents pegs (preferably the nail type).
They have now installed some electrical hook-up points on the site. These are not currently live, but I expect it means it won't be too long until that is an option.
Drayton Manor Theme Park
We went into Drayton Manor Theme Park on the Saturday. Being on site meant that we could go in nice and early and the entrance by the camp site was open, so we avoided the queues for tickets as well as the queuing traffic.
Thomas Land was a favourite with the young children, but the older children were keen to go on the Ben 10 Ultimate Mission ride (opened earlier this year). This ride has a lower minimum height requirement (only 1 metre if accompanied) with a minimum age of 4 years old. This meant that our 5 year old daughter didn't miss out and it's become her favourite ride of the park.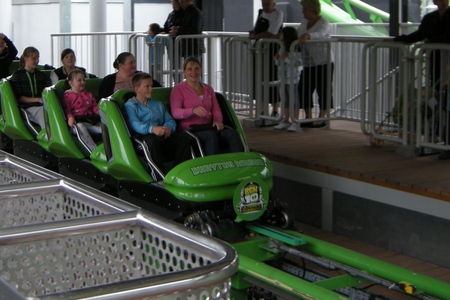 We went back to the tents for lunch which worked out well. It meant that we could have a picnic lunch without having to carry it around with us all morning.
Going with another family worked well as it meant that the adults could take turns in looking at the children and going on some of the big thrill rides including Shockwave, G-Force and Maelstrom, three of my favourite rides.
Evening on the site
Staying on the campsite meant that we could stay in the Theme Park until it closed and make the most of the day at the site.
Although weather had improved compared with the previous night we decided to have a take-away in the evening rather than the usual BBQ. We drove the short distance to Fazeley where there was a choice of Chinese take-aways as well as a small Tesco's store and a petrol station.
Cadbury's World in Bournville
As my brother had travelled down to the Midlands for the weekend, we decided to go to someone different for the second day. See my review of my previous camping trip to Drayton Manor for more about the reduced price 2nd day re-admission if wanting to spend more time at Drayton Manor.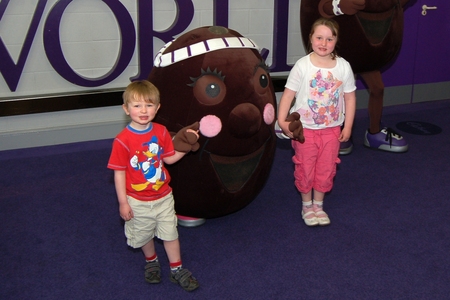 As we had a couple of young children and as we all like Chocolate we decided to go to Cadbury World based at the chocolate factory in Bournville.
We packed up our tent early in the morning and drove through Birmingham to get to Cadbury World. Recommendation is to book in advance which we had done. We paid using Tesco Clubcard Days Out Vouchers, which meant that I had to phone up rather than book online. The only thing with the Tesco vouchers is that they are only valid for the individual ticket rate rather than the family ticket, but it still worked out good value.
The slot we were in was quite busy, but visiting in the morning meant that the queue for the Cadabara ride was still very short.
There have not been any changes to the tour since our previous visit last year. You can read my review of a day out Cadbury World here.
One thing that had changed was that they have replaced the outdoor children's play area with a much bigger play-ground. The kids enjoyed the new play area. A small part of the play area is shown below.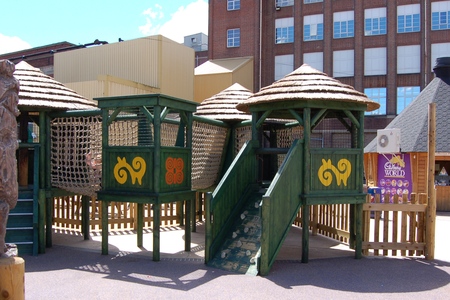 We also ate in the restaurant in Cadbury World which was fairly reasonable and has a good selection for children.
Summary
We had a great weekend, despite it starting off with bad weather. The campsite at Drayton Manor is a good site and reasonably priced; ideal for spending time at the Theme Park.
Our children are looking forward to when we go camping again, which will hopefully be towards the end of the summer holidays, but travelling a bit further away next time.