Raspberry Pi Birthday Party – Birmingham 2019
I was again involved with the Raspberry Pi Birthday Celebrations in Birmingham.
This years event was held at the STEMHouse in Birmingham. A makerspace / startup space designed for entrepreneurs and small businesses looking to create a product.
There was a strong influence of 3D printing and games programming at the event, including my own talk and hands-on session.
3D printing from Minecraft
During the event I gave a quick talk / demo on a program that I have developed on 3D printing from Minecraft.
It's designed to lower the threshold for those looking to create 3D printed creations.
This is work in progress, but allows you to create a platform to design on, and then export it for use in OpenSCAD. More updates will be coming soon with additional features.
Starting game programming using Pygame Zero
This was a 40 minute practical session on getting started with Pygame Zero. It starts with a very basic pygame zero program, adding a background, some sprites and collision detection.
The complete game is where the player controls a unicorn (or other animal) to collect food which appears at random places across the screen.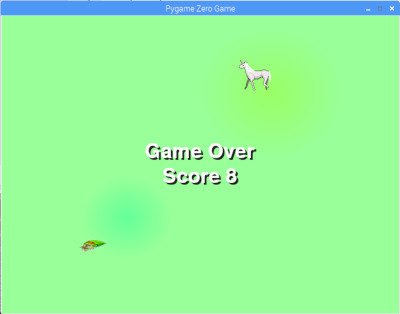 Other activities
Other activities included talks and practical sessions on 3D printing, a practial Minecraft Python programming session, an introduction to the MicroBit and other talks.
The event was mainly attended by families. It was great to see so many young people take an interest in learning computer programming. My own two children attended and were both inspired by the activities. My son with the programming and my daughter with some of the 3D making opportunities.
I also hope to give my presentation at the UK 3D printer meetup in Birmingham later this year.