Christmas in London – Hyde Park's Winter Wonderland
We didn't actually plan to go to the Winter Wonderland at Hyde Park. We were in London and after a brief visit to see the front of Buckingham Palace and the playground in St James' Park we walked to Hyde Park Corner in search of some food and a tube station. We then saw the entrance archway and went to investigate.
There is free admission into the Winter Wonderland, which consists of a Christmas Market area and then a huge funfair. The market is a pretty good size with a selection of traditional Christmas and craft stalls. The main feature however is the fun fair which includes several roller-coasters, Europe's largest travelling vertical drop tower and a large selection of adrenaline rides. There are also plenty of rides for younger visitors.
Most of the rides have a Christmas / Winter theme. Many are genuine winter style rides, but many others featured some extra Christmas painted signs or decorations.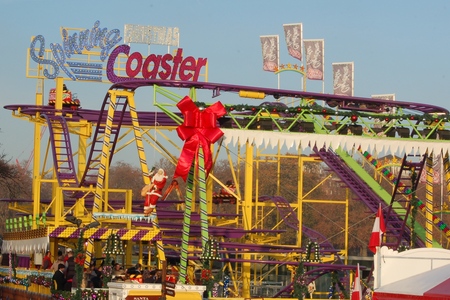 The rides require tokens which work out quite expensive. The tokens cost £1 each, the cheapest are the rides for young children which start from 2 tokens (£2) and the most expensive I believe is 6 tokens (£6). You should expect to pay around £4 to £5 for the good rides. There is also a giant ferris wheel which is a little more expensive and an ice rink and circus which have their own admission fees.
There is a wide selection of take-away places to eat from traditional English food to German Bratwursts.
There are plenty of toilets, but only when you reach the funfair section. They are a good distance from the main entrance, but then they are placed at regular intervals.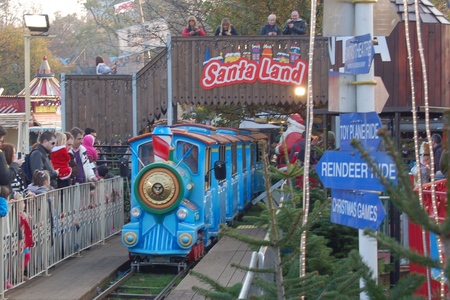 We visited during the Sunday afternoon of the first weekend after it opened. This turned out to be a very mild autumn day in November (a complete contrast from the Christmas trip to Disneyland Paris last year). Queues for the rides were fairly short (except for the Spinning roller-coaster which ran several empty test runs whilst we were waiting in the queue), but the queues for some of the ticket sales booths were quite long. We left quite early at 3pm, but it was getting a lot busier as we were leaving.
Summary
Well worth a visit for the funfair. The Christmas Market is a good feature, but if you are just interested in the Christmas Market then the one at Southbank is just as good. There is a huge variety of rides in the funfair for all the family. The rides are quite expensive so be prepared for an expensive day out if going on more than a few rides.